.......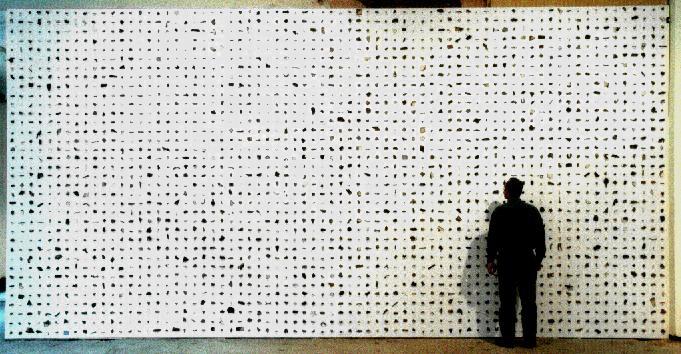 New Contemporaries 99
Collection: Liverpool City Museum, May 1941
This site-specific installation based on the destruction of much of the Liverpool City Museum collections in the Blitz comprised a collection of 2,600 named charred fragments of museum objects laid out in a grid covering a wall, 24 x 12 feet. The work seeks to address a number of ideas: the ease of destruction compared to the painstaking and long process of making; the relationship between identity and the object, particularly the idea that identity and some form of presence can survive ( and possibly be isolated from) the existence of the object; the despair of loss; the idea that we may culturally create a cycle of creation, discarding and excavation; the idea of the object as a representation of itself and its history; and the relationship between authenticity, representation and fakes. The work is narrative in the sense that it displays and questions the act of its making; and the scale of it, the fact that the labels at the top levels cannot be easily read, invites the viewer to participate in an act of faith.
Collection, Vocabulary, Railway Stations
Beaconsfield Gallery
A site-specific installation using the collection as a model for delight and the substitution of the exotic for the risk of travel. It seems that Russian railway engineers working in the Vauxhall area of London in the late 19th century took the word Vauxhall back to Russia where it was adopted to mean a railway station. This linguistic link allows the use of language as a metaphor for movement across space and boundaries. Using the format of the excessive collection (1,600 tickets laid out in a grid covering 15 x 20 feet) with an apparent taxonomy made up of glimpses of a narrative, the work sets out to explore notions of documentation, representation, and authenticity, and the worlds like those seen from a train window that are simultaneously banal and compelling.
Collection: Vocabulary, Railway Stations, 16 x 20ft
.......................................